Discover more from Sounds Good!
Music, Movies, Books...the good stuff! This is also the home now to Off The Tracks - a full archive of 11,000 posts on pop culture
The Brilliance of OutKast - and especially Andre 3000
Friday is fun because it's about music. So there's always playlists and albums, new and old to enjoy. Today, OutKast, one of my favourite musical groups. And a brand new album by Andre 3000.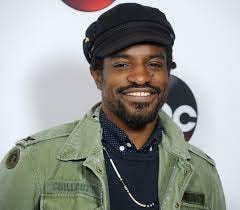 OutKast. I love them. They didn't put a foot wrong. Brilliant, and immaculate. They embodied everything I love about hip-hop - and therefore (also) totally transcended the genre. You had OutKast fans that weren't even hip-hop fans. But the duo (Andre 3000 and Big Boi) were like some Trojan horse. To like OutKast was to acknowledge all that was fun and fearless about hip-hop. Even if you didn't realise you were doing exactly that.

OutKast broke through in the 1990s with a string of albums, each one seemingly better - more audacious, definitely more musically spacious - than the one before. They helped to popularise the idea of "Southern hip-hop", a distinctly anti-gangster rap. An instant antidote for the bad press that hip-hop was getting (underlying racism driving it). They were fun and funny, and weird, and wonderful. And usually all at once. There were callbacks to the paisley underground, and things got genuinely psychedelic at times. Little bits of reggae. I heard - and felt - Prince and Sly and The Family Stone. I always want to hear and feel those things!

I sometimes think the proof of everything OutKast wanted to do and absolutely acheived might be here in one (perfect) song:
But that would be to forget all the other nearly-perfect, absolutely brilliant tracks they made across one of the best, finite discographies of the modern music era.

OutKast did not miss. And for me it all reached fever pitch with Ms. Jackson. A song that has a great video - as was needed in that time. And another example of a song that is both perfect teaser for what the group might offer, and the satiating whole meal:
If that's all you can tolerate then that's okay with me. Not everyone has to like everything. That is a song I can truly say I never get tired of hearing. One of very few. It has held me in its sway for over 20 years now. It's a staple of family car-drive playlists. If I don't pick it then Oscar does, or Katy does. We instinctively know that one of the three of us will choose it. It's always there. And all three of us love it in our own ways, and now collectively too - as a result. It's something truly special for us.
If there is one perfect OutKast album - and only one that you are prepared to try, then it makes sense it is the one with their perfect and best song on it, Aquemini (from 1998).
This, again, is both a perfect hip-hop album, and also gloriously its own thing altogether; an album you'll find in collections of music fans that don't (traditionally) listen to a lot of hip-hop. But you might even perfer 2000's Stankonia. You wouldn't be wrong.
It's not only got Ms. Jackson on it, but a bunch of their gems, including So Fresh, So Clean:
Someone else is going to tell you that 1996's ATLiens is the one. (They wouldn't necessarily be wrong). Or that the giant 2003 double, Speakerboxxx/The Love Below (seperate solo albums from each of the group's members) is a sprawling masterpiece. (Again, accurate). No one tells you their 1994 debut or their 2006 movie soundtrack is their best effort, but these albums are superb too, such perfect bookends for an immaculate recording career.
In just over a decade they made a half-dozen albums that each created a unique musical world; that all speak to the greater good of what OutKast is, or was.
And then, just as perfectly, the group stopped making music. Andre 3000 did some acting, and plenty of guest appearances on other albums. Big Boi made music on his own. It was true to the spirit of his music as part of OutKast. It wasn't ever terrible. It was sometimes very, very good still.
They gave the fans a reunion. And it worked. They played on stage and hit all the right notes (song-wise, vibe-wise). Then called it a day again, rather than lingering longer than their original run - the curse of far too many "reunion bands".
I regularly listen to bits and pieces of OutKast. I used to own all their albums on vinyl, and some days I regret selling them off, but the music is still with me - and still available on all other formats.

Just recently, I worked through the whole catalogue, in order. I remember writing a review of Idlewild, there almost baffling Cotton Club-esque movie and accompanying soundtrack, saying that it might make more sense down the track a bit. And guess what? It does! There's almost nothing weird about it at all now. It just plays through like another set of welcome bangers from a great group. Okay, it wasn't blazing glory to go out on, the way the big double album would have been, the way that amazing middle trilogy of ATLiens/Aquemini/Stankonia absolutely and always is. But there's just no shame anywhere in the OutKast catalogue. It is somehow both a beautiful sprawling mess (in only the right way) and a tight, sharp set of pieces adhering to a unique shared vision.
To hear each album on its own, two (and three) decades after they were conceived was to often be hearing a band that was ahead of the game. It'll be thirty years since their debut next year. That seems simultaneously unfathomable and absolutely correct.
I come and go with hip-hop. I have to. I'm culturally glomming onto it like a tourist. I'm also omnivorious and voracious as a music-listener. Currently, I'm having yet another big Beatles phase, though specifically focussing on Paul McCartney. I'm also reminsicing through late 90s/00s music via a gifted CD collection, and I'm making sure I connect with my 12 year old son who is teaching me about Tyler The Creator and Travis Scott and Logic and reminding me to check in on the music of Frank Ocean. I'm still obsessed with movie soundtracks. And most mornings I get up at 5-6am to have an hour or two of the house to myself, and to engage with what I consider my musical meditation. If it's not Brian Eno or Tangerine Dream, then it's classical by way of movie score, or by way of library CDs; it's basically a bunch of ambient, classical, and other instrumental musics - it's about as calm and 'slowed down' as I get in this world. And over the last three years or so it's been a big part of my world, my routine. It has even taught me to love music again.

Somewhere in all of this, I found the time to listen to the OutKast catalogue again. And I'm so glad I did. And I'd been meaning to write something about them. For you. And of course for me. And I hope on some level, this will do. This wasn't the shape I originally imagined it would take.
But, you see, earlier this week, it was announced that Andre 3000 would finally be releasing a debut solo album. There would be no rapping on it. No words, even. It's an ambient record. It's musical meditation. Andre plays a set of flutes and electronic wind instruments. The music borne of improvisation, taken from from the worlds of Eno, Laraaji, and Alice Coltrane, which might seem about as far as you can get from OutKast, which is more closely alligned with, say, Goodie Mob, The Roots, and Erykah Badu.

But isn't that beautiful. Isn't that also the very essence of hip-hop? To always be searching. To be open. To be intrigued. To take from all styles, and make your own.

Andre 3000's album, New Blue Sun, has been out for about seven hours as I write this. I put it on repeat through the night and fell asleep with it. I've been listening to it as I write about his earlier music, from his former self. New Blue Sun is the type of album I regularly listen to at five and six and seven in the morning. It is the type of album I would want to hear, regardless of who made it. But the timing of its arrival felt exquisite, and changed the shape of what I wrote about his 'old' music; his 'old' group.

There's a great interview he gave (on NPR) earlier this week, about his legacy, his new music, and his reason for not rapping (though he does say, never say never). There are other interviews you might want to check out too.
And then there's all that other great music. It's not hiding. It's still there. Forever there.

I made a playlist of all of his great featured-verses and so many of the key OutKast songs. I call it 50 Reasons To Love Andre 3000:

I feel like it's all the more amazing to line it up before or after his brand new album, which arrives a full 17 years after he was last on record as anything other than a featured artist doing a cameo.
---
I also know it's Friday, and if ambient and hip-hop are not your thing at all, then I have you covered with a bunch of somethings-else, via our weekly playlist. By my count, we are at Volume 143. So dig in, see if there's something you like.

Thanks, as always, for reading. And listening. And have a great weekend.

Sounds Good! is a reader-supported publication. To receive new posts and support my work, consider becoming a free or paid subscriber.