Discover more from Sounds Good!
Music, Movies, Books...the good stuff! This is also the home now to Off The Tracks - a full archive of 11,000 posts on pop culture
Ranking Scorsese
Monday is movies. (And sometimes TV). Today, I rank the feature films of the greatest living American director.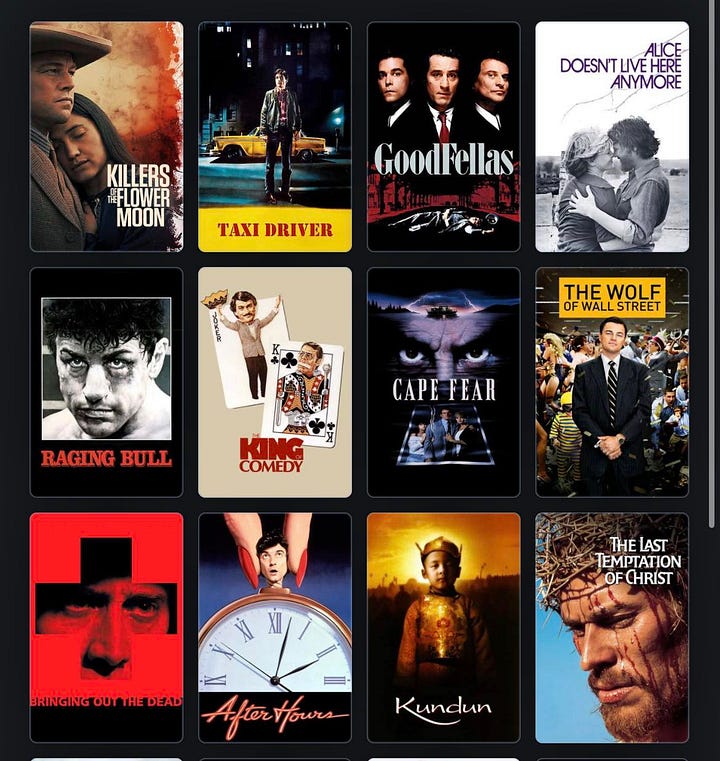 It's no great stretch to call Martin Scorsese the greatest living American filmmaker. His impact and influence has been felt across generations. There's that run of classic films across the 1970s. There's a couple of masterful dark, quirky comedies from the 1980s (a decent, underrated drama is in there too) and then another great run of films in the early 1990s, ahead of huge acceptance for his mid-00s return to gangster-movie territory. And then a trilogy across the last few years comprised of three towering epics that seem to encapsulate all of the themes he's been exploring across his catalogue and career.
Is Killers of The Flower Moon his final film? Part of me hopes so. It would be a masterful full-stop. But there's certainly plans for more work.

Outside of his 26 feature films he has made several shorts, including the opening component (and best bit) of the anthology film New York Stories, and a bunch of documentaries.

I've seen everything he's released - all of the concert films and docos, his short films, his passion-projects about Italian cinema. Everything. And even though I love his Bob Dylan doco, and think The Last Waltz is rightly up there as one of the greatest concert films of all time (there's really only that and Stop Making Sense when it comes down to it), for my definitive ranking list I am dealing, only, with his narrative feature films. It saves me from having to put his George Harrison documentary at the very bottom of the list - because even though I've tried to like that, it only makes me come away hating George.
From time to time, I make lists on my Letterboxd account - you can follow me there and check out my film activity. I am actively trying to catalogue everything I've ever seen - so I'm updating it daily, with both brand new watches, and as memories return…

I'm hoping to do more lists, and might rank a few more directors as I complete whole filmographies. My thanks to my 12yo son Oscar for the inspiration. He loves lists. And suggested I rank Martin Scorsese. So, see here for the Letterboxd list. Or read on below…

Lists are funny things, that's the point. The decision to place something in a particular position can drive a person wild. You didn't like Shutter Island as much as I did, it's a goddamned masterpiece?! Or How dare you place Wolf of Wall Street so high, it's TOO LONG! etc.

My list is based on my rankings. Many of these films I've seen a bunch of times, or at least twice, some I've only seen once (and might only ever see once). So rankings can always change. A few of these films probably moved up the list due to a recent re-watch. Some are sitting high up there on nostalgia, maybe rewatching them would bump them down. I love pretty much every film on this list. One bored me to tears, but is not a 'bad' film, just not at all my vibe. And one I consider a mess, and a dud. And maybe I will rewatch it and argue with myself. But until then, in order of 'best' to 'worst' - here are the feature films from the Martin Scorsese filmography as I see them.

1. Killers of the Flower Moon - I think this will stand as his greatest. So, I wanted to call it early
2. Taxi Driver - It blew my mind when I first saw it. And opened up a world of new-to-me cinema. For that, it has to rank high. I still love it.
3. Goodfellas - I mean it's masterful really, a nearly perfect film. So many clever things happening in it, and with it, and a compelling story - worthy of a high spot on the list just for the music selection.
4. Alice Doesn't Live Here Anymore - My favourite of the early films - by far. And it always seems so underrated/under-appreciated in his catalogue. So I'm changing that in some small way!
5. Raging Bull - Technically beautiful and beguiling and brutal - all at once. Mesmerising, but super tough. Or super tough AND mesmeric
6. The King of Comedy - A masterful example of the very best type of black comedy. And De Niro's first great comedic performance
7. Cape Fear - A brilliant remake, a chilling De Niro performance, an exquisite use of the original's score to create an unsettling vibe throughout. Love this movie - surprisingly re-watchable given how pulpy and ludicrous it really is
8. The Wolf of Wall Street - It's high on the list for Leo's performance alone. It also introduced the world to the amazing acting talent of Margot Robbie. On top of those things, it's one of the best three hour films ever.
9. Bringing Out The Dead - Another of the 'forgotten' films in this inimitable catalogue. A great return to the right sort of drama for Nicolas Cage after his wayward action star folly too.
10. After Hours - This screwball "music video" of a comedy film is somehow more perfect in this era with its Kafka-esque worker's nightmare. Also, it's a) demented fun and b) feels very different for a Scorsese joint.
11. Kundun - "Kundun! I liked it!" *
12. The Last Temptation of Christ - My kind of "religious" film - and possibly the greatest musical score ever made?
13. Silence - The most recent film of his for me - the final one for me to watch, so my rating of this could go up (or down?) when I rewatch it. But I loved it.
14. Casino - Yes, it's sorta "Goodfellas-lite" / "Goodfellas-but-longer" but it's also not. It has its own thing going on. Pesci is maybe more psycho but also further fleshed out. De Niro's suits make this a film to watch!
15. Mean Streets - As much a rock'n'roll advert/video as a 'film' of any great substance. But as a way of putting your flag in the sand to say what you're capable of doing - in look and feel - this still has plenty of groundbreaking charm.
16. The Departed - I like this film just fine. In fact, there's plenty to dig about the complexity of its story and how it unfolds. But at the same time, it's always felt overrated in his catalogue, a bit like some of the recent Bob Dylan albums - yeah, we get it they're good and they made you finally start listening. But are they the best? No. No, they're not.
17. The Color of Money - I just like this. For Newman especially. And for creating/continuing a legacy, from the earlier film…
18. Shutter Island - First time I watched this I wasn't sold on it. That changed on a rewatch.
19. New York, New York - I am not into musicals at all, and yet I loved the musical aspect of this. And I think it's one of De Niro's 'forgotten' roles, less talked about than it should be; a huge emotional range from him in this film.
20. Gangs of New York - This film was unfairly roasted at the time, and after. It has some great performances, and it looks (lighting, costumes) fantastic.
21. Who's That Knocking at My Door - If this wasn't first, it might be lower down the list. I still like plenty about it though - but it mostly feels like a daring leap up from his short films.
22. Boxcar Bertha - I loved this when I saw it. But there's not the same rewatch-quality to this one as so many others. It's still a bold, brave film. But it's not the banger that so many others manage to be.
23. The Aviator - I didn't hate this - I just found it to be a 'treading water' kind of film. Some fine things about it. But too long, too slow
24. Hugo - There's really nothing wrong with this film - it's just not for me. I am not its audience. I feel like I am the audience with (almost) everything else Marty made. Almost…
25. The Age of Innocence -ZZZZZZZZZZZZZZzzzzzzzzzzzz
26. The Irishman - Fucking turkey!

So, that's how I saw them. What do you think?
And for more from me about Martin Scorsese, I recently gushed about the music in his movies, including making a bunch of playlists. And raved like a loon about Killers of the Flower Moon. You can read those pieces below:

Sounds Good! is a reader-supported publication. To receive new posts and support my work, consider becoming a free or paid subscriber.
*