Friday is fun because it's about music. And playlists. Today it's the Carpenters. How I love their music. Wasn't always the way. But I'm all in now...
I love the music the Carpenters made. Nearly every sha-la-la-la, and probably most of the wo-oh-wo-woes still shine. But Richard was weird. And Karen was scared. And when you see that you start to hear that. And it's not that it makes the music better – nor worse. But it's hard to not know it once you feel it. And Richard was afraid. But Karen was sad.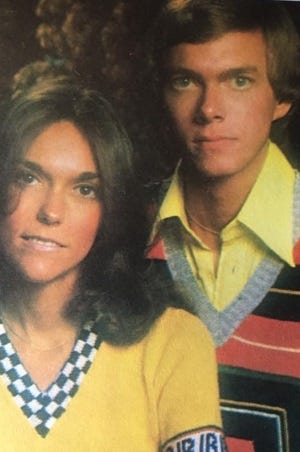 Slowly, but surely I came around to the music of the Carpenters. I mean, it was there all through my childhood. A staple of radio and TV. But I guess it was what I perceived as a shiny, smiley Christian ethos that seemed pervasive (Top Of The World). For a time that couldn't sit so well.

But, now I'm also not so sure about that sunny disposition anyway.


There's a lot of sadness in the songs, though there's so much joy in hearing Karen Carpenter's voice. She'll make you feel good about feeling sad.

And let's have no talk of Karen as a punchline, please!
Brother Richard was in charge of song selection (covers) arranging, producing and composition. But if he was the boss, it was ("Lead Sister") Karen that was the star. Ask her if she was a singer though, she'd tell you she was a drummer. Maybe concede to being a drummer who also could sing. But it was drums she loved. And she was good too. She also played at a time when there weren't really any female drummers – not in mega-selling pop acts; not lead singers too!
The sad story of Karen Carpenter (death at the age of 32 owing to complications from Anorexia, ahead of that worn out and depressed) overshadows the success she had in her lifetime. It will always come down to a life cut short, to the misery and crippling mental and physical health issues that took her away from the music she loved.
There are plenty of YouTube clips celebrating Karen as drummer even when she was removed from the chair as the main touring drummer it was still – always! – a feature of any performance by the band. Karen was a drummer.
There was always a Karen Carpenter drum showcase.
And that's one of the reasons she deserves to be memorialised as a drummer; celebrated in that role. She understood performance – she knew how to play the game as well as the instrument.
Also – in the very early days there were plenty of great musical showcases of her ability. Her talent with the sticks.
The band's debut album is the only record in their catalogue that features Karen as the drummer on every song. When they hit the charts, the singles were recorded with the legend Hal Blaine behind the kit. In later years if he was unavailable it was Larrie London or Jim Gordon or Run Tutt – all amazing players. Karen held onto the live spot for as long as she could, but she kept getting urged to step out from behind the kit. First for a song or two. Eventually that ratio would reverse, and she'd only get to sit down behind the drums for a song or two – and her solo spots, which included concert toms, timbale, solo snare drum and various percussion instruments as well as a stint at the full kit.
She also knew how to sit in with touring drummer Cubby O'Brien. This is a skill. (So too is biting your tongue and letting the hired hand do their job – when you technically know how to do that job; could be doing that job…)
Look, there was the odd hit record that featured Karen on the kit as well as the lead vocal. Sing, Please Mr. Postman. Yesterday Once More. All examples of Karen playing tastefully and always for the song.
She is on many of the album tracks across the first half-decade of the band's meteoric rise.
But as her condition worsened, as her health weakened, there were obvious reasons that she needed to be replaced.
But listen to the early stuff for a taste of Karen at the kit. There's jazziness, there's restraint, and there's precision.
Karen started playing as a teenager – it wasn't a long wait before Richard was out playing covers and jazz standards in a trio. Karen was his drummer. She was eager to play. She learned on the job. And quickly.
She had a perfect sense of time.

I love listening to and watching Karen Carpenter on drums. Thinking about what could have been – she'd have returned to the drums if a solo career had been allowed to develop. I'm sure of that. But even what she gave us – and the mega-success of the band – proves her to be an important influence. That she (always) saw herself as a drummer, first if not literally foremost, means she is a pioneer of the instrument for her gender.
That aside the passion was palpable. And she skilfully moved between her two key influences – the pop instincts of Ringo Starr and the exploratory jazz chops of Joe Morello.
Richard was a decent harmony vocalist, aware of his range, and a solid pianist – but his great skill was in the arranging (and selecting). He's even spent his whole post-Carpenters career in service to the legacy of his sister, and the band; it pays well, sure, but it's about more than just the money.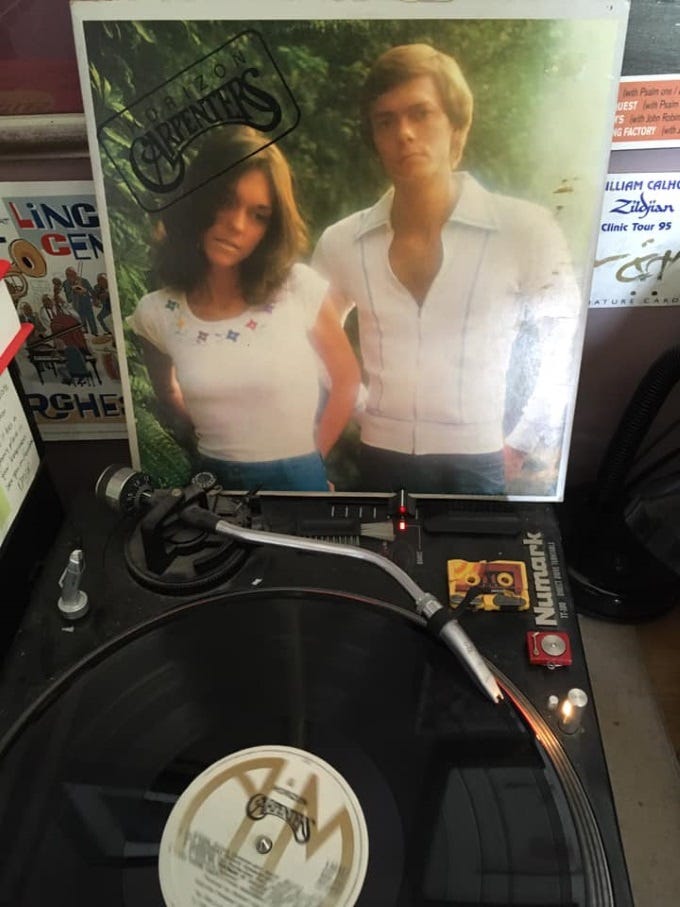 It used to be that I'd look for a gimmick that made it acceptable to like a Carpenters song, Superstar because of the Sonic Youth cover for example – or Goodbye To Love but only because of Tony Peluso and his incongruous fuzz-guitar solo.

Not now.

Now there is no gimmick – just gorgeous songs, endearing/enduring performances. When I listen to The Carpenters I feel some form of elation – I feel I'm hearing something very pure. And that's getting harder and harder to find.
I love the music the Carpenters made. It's Yesterday Once More. Goodbye To Love. We've Only Just Begun. The weepies, the big tunes. The obvious ones. So perfectly built. The sadness hangs there within the frame. Those songs still shine.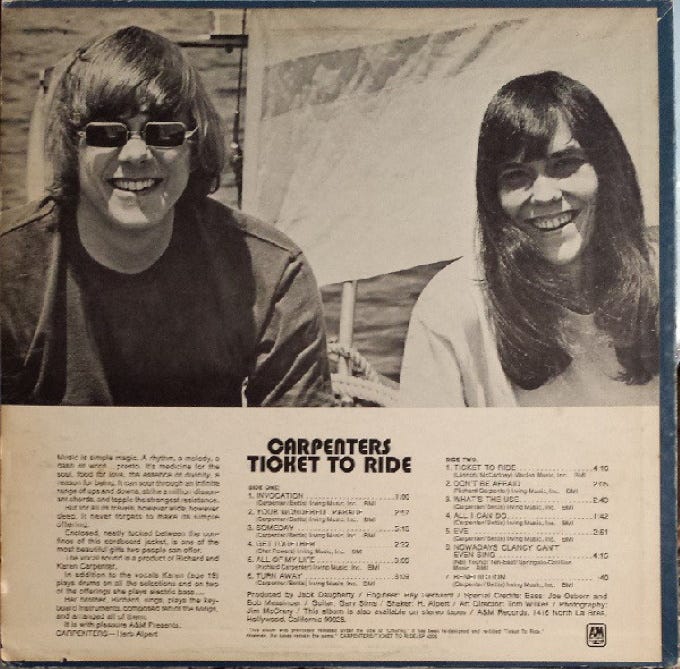 One of my very favourite things I ever did in my time creating segments at RNZ, was 

this one about the music of the Carpenters.



So that's all the Carpenters for today, and this week, the rest of the music below is anything besides the Carpenters. Yes, it's our regular weekly playlist, 

A Little Something For The Weekend…Vol. 109

. As always, my hope is that you find something here to dig on, something you used to love, something you forgot you knew, something that catches you just right today because of the tunes it's flanked by, or something brand new to you no matter how old it might actually be. And happy weekend! Thanks for reading. And listening.
Sounds Good! is a reader-supported publication. To receive new posts and support my work, consider becoming a free or paid subscriber.